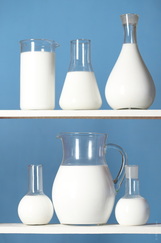 LeukoMeal™ is a trade mark of natural probiotic product produced through natural process of hydrolysis and filtration of enzymatically predigested probiotic cultures commonly used in yoghurt.
LeukoMeal™ has been on the US market since August 2000 and has benefited thousands of people.
LeukoMeal™ has been shown as the most potent antioxidant capable of reduction of GGT (gamma glutamyl transferaze), an enzyme produced by every cell in the human body, which has established as a main risk factor of all cause mortality.
Intellectual property associated with LeukoMeal and its property as an effective modulator of GGT activity is protected with patents.
In addition to their capability of reducing oxidative stress and GGT, glucopeptides from LeukoMeal™ have been shown as potent cytokine blockers, including blocking of TNF-alpha toxicity.
How LeukoMeal works
LeukoMeal was developed after discovery that hydrolysis of the peptide bonds and peptide cross link of the gram positive bacteria genus of Lactobacillus and Bifidum leads to release of the novel glucosamine muramyl peptides, with strong potency towards inhibition of TNF alpha cytotoxicity, following reduction in GGT. Consequently, in one aspect the LeukoMeal™ delivers the new biodegradable glucosaminemuramyl di-, tri-, tetra-, penta-, hexa-, and octapeptides, which possess apoptosis modulating and strong antioxidant properties and are useful for treatment of all conditions associated with elevated GGT,  ALT and LDH activities. Examples of such conditions include ischemic reperfusion injury, atherosclerosis, cerebral stroke, and chronic heart failure, proliferation and metatstic activity of cancer, hepatitis C, osteoporosis, diabetes and Parkinson disease.
The product is completely natural and organic, its preparation is based on a method for isolation of high purity biodegradable glucosaminemuramyl peptides, which comprises the bacterial wall isolation with subsequent lysozyme and endopeptidase (derived from papaya latex) hydrolysis and purification with preparative high pressure liquid chromatography (HPLC).
LeukoMeal as a novel medical food consists of the enzymatecally hydrolyzed probiotic bacterial wall. It can be used as a single ingredient or synergistically for reduction of the systemic cytokine toxicity, which leads to elevation of GGT. Each ingredient, preparation enzymes, and reagents are generally recognized as safe according to FDA standards.
LeukoMeal may be used to reduce LDH associated malignancy and damage caused by radiation therapy and chemotherapy. Specifically, the present food may be recommended for those patients who suffer from common post-chemotherapy toxicity such as leukocytopenia, thrombocytopenia, and high bilirubin with elevated liver enzymes. Further, the present invention provides nutrition for reducing cancer fatigue and muscle dystrophy.
In a related aspect, LeukoMeal™ provides the means for dietary management of patients suffering from hepatotoxicity caused by chemicals, anesthetics, drugs, and alcohol. Glycopeptides fortified food and drink may be especially beneficial for people with concurrent liver cirrhosis, thus preventing severe fatigue and brain damage caused by ammonia.  Furthermore, the product provides the food for metabolic detoxifications of the carcinogenic chemicals and mutagens. The treatment of heroin addiction is also among its applications.
The proprietary structure of new probiotic glucopetides and their applications are protected. Pending US patents: SSN 10455123, SSN 10409846, and SSN765734 Issued US patent #6,281,191, and US patent #5,834,435
Health Effects of LeukoMeal™
In cardiology:
Reduces chest pain in patients with ischemic chronic disease
Reduces C-protein levels
Anti-coagulation activity
Improves heart function in patients with chronic heart failure
Reduces Gamma Glutamyl Transferase activity- main risk factor of cardiovascular mortality
Effective on hypertension (normalizes blood pressure).
In hepatology and endocrinology:
Alleviates fatigue in patients with hepatitis C with parallel normalization  of ALT, AST, GGT, and gradually eliminates blood serum virus.
Alleviates conditions of metabolic syndrome
Alleviates problems associated with chronic pancreatitis
Alleviates problems of diabetic angiopathy and retinopathy by lowering GGT activity.
In oncology
Effective on GGT positive malignant tumors resistant to chemotherapy: brain glioblastomas, hepatocellular carcinomas, colorectal cancer, ovarian carcinoma, metastatic cancers
Normalizes blood leukocytes and alleviates problems of leucopenia
Normalizes blood thrombocytes and alleviates problems of thrombocytopenia
Reduces GGT, ALT, AST, and alkaline phosphatase
In gynecology
Gradually eliminates human papilloma virus
Stops progression and alleviates problems associated with coli uteri cancer
In neurology
Prevents both ischemic and hemorrhagic stroke by reducing GGT levels
Improves rehabilitation in post-stroke patients
Alleviates conditions of Parkinson disease
Directions and Doses of LeukoMeal™
Take LeukoMeal™ capsules preferably 30-40 minutes before meal.  Drink half a glass of warm tea, swallow capsules, then drink rest of your cup of tea.  In the absence of tea warm water can be also used.
DISCLAIMER
LeukoMeal™ has not been evaluated by Food and Drug Administration of the United States.  This product is not approved for diagnosis or treatment of any disease.  LeukoMeal is a natural food product intended for dietary management as a nutritional supplement.  LeukoMeal™ is intended for sales only in countries where it is not prohibited by law.