The Coley Vaccine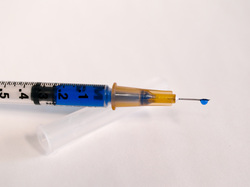 The formula for the Coley vaccine was the innovation of William B. Coley, MD, a surgeon who worked at Memorial Hospital in New York City (now Memorial Sloan Kettering Cancer Center) from 1893 until 1936. Coley is credited with pioneering work in the field of immunotherapy based upon the work of earlier physicians in Germany. The physician's interest in the subject developed when he lost his first cancer patient, a young girl with a sarcoma who died of metastatic cancer in spite of radical surgery. When Coley reviewed a hundred cases of sarcoma treated during the previous decade, he noted that patients who developed bacterial infections after surgery fared better than those who did not.
More information about Coley vaccine and its application for treatment of cancer can be found on the website of MD Anderson Cancer Center. Coley toxins or mixed bacterial vaccine (MBV) are defined by MD Anderson Cancer Center as bacterial endotoxins, which may consist of any bacterial component. (http://www.mdanderson.org/education-and-research/resources-for-professionals/clinical-tools-and-resources/cimer/therapies/nonplant-biologic-organic-pharmacologic-therapies/coley-toxins-scientific.html)
Even though Coley was very successful in treatment of various types of cancer with his vaccine, the most amazing successes have been achieved in treatment of viral infections.  Coley vaccine is approved for clinical use in China, Bahamas, Germany and other countries.  However, it is not approved by FDA in the USA and may be produced only in doctor's offices for immediate use under supervision of the doctor.
Through many years of research performed at Probiotica Corporation (Houston, TX), we developed a new antiviral vaccine from "pro-life" bacteria, probiotics.  We also identified the most potent ingredients in this probiotic bacterial vaccine capable of immediate normalization of liver function, reduction of activity of all liver enzymes, including the most important of all, gamma-glutamyl-transferase, GGT, elimination of the oxidative stress and gradual reduction of the viral load with complete cure of the patients with hepatitis-C in 6-9 months.
Furthermore, Probiotica Corporation possesses know-how for the cost effective production of its proprietary formulation of Probiotic vaccines for supply in countries where such vaccine is approved by the regulatory agencies.